Ugandan singer Eddy Kenzo hit a fan with a microphone after the revealer doused the singer with an unknown type of liquid. In the video that has gone viral on social media, Eddy is seen gazing at the fan before smashing the lad with the microphone he was holding.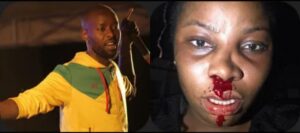 The 'Tweyagale' hitmaker has been trending everywhere for all the wrong reasons. The incident happened recently when the singer was having a show at Fort Portal. The 'Eddy Kenzo Festival' had gathered many fans who came to enjoy his live performance.
After the fan poured the unknown drink on him, the singer looked agitated and responded immediately by smashing the microphone at the lad. The security team could be seen getting to the crowd and catching up with the revealer. However, the singer is yet to respond to the incident that happened at his concert.
Eddy Kenzo addresses fans
However, after the show ended, he took to social media and thanked his fans who spared time to attend the event. Judith Heard took the initiative to defend the singer after the incident. Judith argued that serious measures should always be taken to curb such attacks on innocent artists.
Judith Heard stated, "Before we lose an artist on stage or a fan in the crowd. This was a wake-up call. He was pushed to the limit but this could be turned into some big case. We shouldn't be laughing about this. Ugandan musicians, y'all need to figure out how to end this. Next time that fan will pour acid on the artist or the artists' group will hurt the fan."
A section of fans came in defence of the artist, adding that under no circumstances should anyone throw drinks at an artist. What are your thoughts on this story? Kindly share your insights about this story down below. Also read. Find more articles here.