Meddy, a Rwandese celebrity and singer, has deeply mourned his lovely mom Alphonsine Cyabukombe. He became popular in Kenya after his hit song with Otile Brown, 'Dusuma' went viral.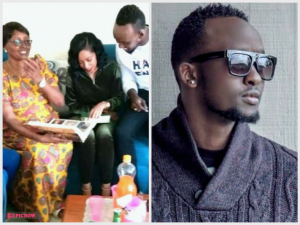 Through his fan page, Meddy posted a beautiful photo of his mom and captioned it with a message that read, "Wabaye inkoramutima," meaning 'You were a close friend.' In an interview with a popular channel before his mom passed, Meddy praised her for raising him as a single mom after his dad's death. Meddy explained how much his mom struggled to try to give him the best life.
He went ahead and said that it was his mom who made him join the music industry. Meddy must have lost an important person in his life.
In a past social media post, he said, "Mama is so patient, Mama is so humble, Mama is so loving, Mama never holds grudges. All she ever asks for is to receive her love, respond to her texts, pick up her calls."
The Dusuma hitmaker added that her mom told him to pray and never forget his God. "The first and last thing she tells me: DON'T STOP PRAYING! MY PURE SOUL, MY MAMA."
Meddy also told fans previously during the same interview that her mom was on Instagram, but she wouldn't tell him what her username was." PS: She is on Insta, but she won't tell me her username… she probably thinks I am going to block her.. ( which I kinda would but in a good way….lol), and she probably gonna see this post and text me on WhatsApp that she saw it… I LOVE YOU, MA."
On Mother's Day, Meddy excited his fans with a message he penned for his mom. The statement read,
"PRETTY MAMA, YOU STOLE MY HEART. The last time I said I love her to death, she said: "I don't like when you say death!" MAMA IS VERY SENSITIVE.
So I am just going to change my punch line today. MAMA, I LOVE YOU TO THE MOON AND BACK!!!… Also, I am still trying to find her username on IG… HAPPY MOTHERS DAY TO MAMA and all the brave MOTHERS OUT THERE."
May her soul rest in eternal peace.