Deputy President William Ruto has taken a swipe at the head of state president Uhuru Kenyatta and Azimio – One Kenya presidential candidate, Raila Odinga, over the high cost of living.
Speaking on Sunday, 26th June 2022, after a church service at Kikambala, Kilifi County, the second in command alleged that Orange Democratic Movement (ODM) party boss Raila Odinga failed to execute his duties as Uhuru's defacto senior advisor since 2018.
He alleged that since Raila, who ought to have advised his handshake brother, Uhuru Kenyatta, to lower the prices on farm inputs, terribly failed to discharge such an easy task, then he (Raila) shouldn't be voted for to succeed in August contest, as he might plunge the country into a miserable state of escalated prices of foodstuffs.
"They (Uhuru and Raila) chased me from the government, and even my good friend Uhuru Kenyatta appointed Raila as his senior advisor. Instead of Bwana Tinga advising his brother to lower the prices of farm inputs and, in turn, increase the production of foodstuffs, he engaged in reggae campaigns."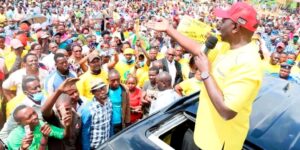 "If someone failed just a simple task of advising the president, what about when you entrust him with the presidency? Won't he even increase the prices of foodstuffs, especially maize flour, to ksh500?" Ruto rhetorically said.
Ruto on the high cost of living
Ruto had earlier protested over the high cost of living, noting that millions of Kenyans are now overburdened by the high bottlenecking cost of living due to the government failing to put in place farm inputs subsidy to allow farmers to produce a surplus.
"A packet of Unga is retailing at a historical price of more than Sh200. It is sad. Millions of Kenyans are burdened by the high cost of living because of failure to put in place interventions such as farm inputs subsidy that could allow farmers produce enough to eat and surplus for sale."
"Those crying about the crisis are responsible for this crisis due to their misplaced priorities. Kenya Kwanza — through its Bottom-Up Economic Plan — will address this problem," he added.