Popular blogger Pauline Njoroge has lambasted Deputy President Rigathi Gachagua for fooling Mt Kenya residents with food after he delivered his infamous mchele nyama promise at the Sagana state lodge.
In a scathing twitter post, Pauline accused the second in command of ingenuity despite the much publicized feast that was depicted as an act of kindness.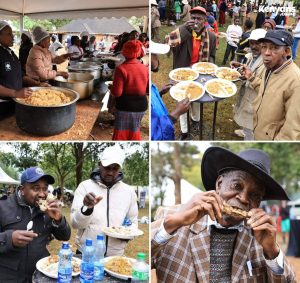 The blogger claims that during Uhuru's administration, Mt Kenya residents mingled freely at the Sagan State Lodge with political class and were not treated without dignity as they were during Ruto's visit.
"I went to Sagana State lodge several times during the previous administration. Never for a single day did I see two food serving points, one meant for waheshimiwas and another one for the rest of wananchi. Everyone was treated the same and their dignity respected, including some young men from the surrounding villages who Gachagua would send to cause drama at the occassion," she stated.
The outspoken blogger further accused Gachagua of detaining wananchi at the presidential suite. She claims that the residents were detained after they staged a walkout following a realization that handouts were not forthcoming.
"To make matters worse, yesterday after eating and realizing they would not be given money, people started leaving the venue. Upon noticing this, the powers that be ordered the gates closed, forcing the people to stay. Surely can you force people to listen to you because of a plate of food?
As Gachagua was giving his speech, he told wananchi that yesterday was their day to be fed and the president had slaughtered cows and goats for them, so for the rest of the days they should't go to the State Lodge to disturb him as he works. Really?! So according to him all of the people's problems and interests which they would like to discuss with the president were resolved with that one plate of food?
Like some Roman emperors, Ruto and Gachagua have mastered the art of BREAD AND CIRCUS! That is how they will keep people distracted as they run down the government," she added.