Following DP Ruto's absence from State House, where Uhuru held a brief discussion with his cabinet secretaries, much has been said. It was a quick meeting during which Uhuru addressed a few issues before heading to the Uhuru Gardens. Many people have speculated as to why DP Ruto snubbed the meeting, with some stating it was a continuation of his feud with President Uhuru Kenyatta.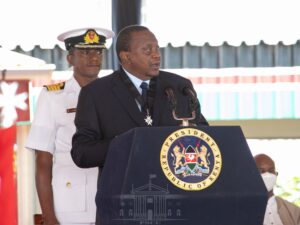 According to The Star, DP had already arrived at Uhuru Gardens when Uhuru was hosting the gathering. DP Ruto had already arrived at the major event venue, waiting for Uhuru Kenyatta. In addition, the source has stated that DP Ruto was not invited to the brief meeting. As a result, he was left in the dark about what was going on.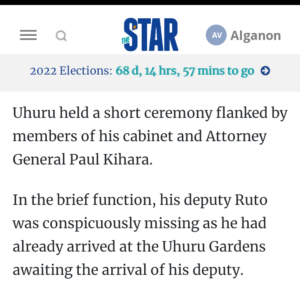 At the meeting, we had a number of Cabinet Secretaries minus those who went to try various seats and those who are allied to DP Ruto. However, the two met at Uhuru Gardens after some hours of the meeting.
However, there are several things that happened today telling that all is not well between Uhuru and DP Ruto. It all started when DP Ruto missed Uhuru's early morning State House meeting. DP Ruto was already at Uhuru gardens when Uhuru was at State House with cabinet secretaries.
It has now emerged that Uhuru left the Madaraka Day function as soon as he finished his speech. According to KTN reporter, he said that Uhuru left with his wife as the body guard escorted him downstairs. Uhuru can be seen walking towards the place where his motorcade had been packed and left. It is very clear that Uhuru didn't make an attempt of talking to DP Ruto.
This is something that generates a lot of questions in people's minds, indicating that something is wrong. It was made clear when he declined to include DP Ruto in his protocol order to back up what the public is seeing.