Singer Madini Classic has disclosed that he is ready to part with Ksh4M in exchage of  Pritty Vishy's hand in marriage. The musician stated that he is ready to take his relationship with Stivo Simple Boy's ex girlfriend to another level.
Speaking in an interview with YouTuber Nicholas Kioko, Madini Classic stressed that he is very much in love with Pritty Vishy, revealing that he is the one who approached her.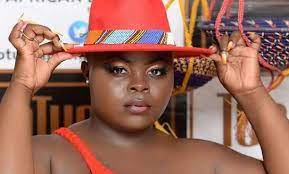 He also stressed that he is not chasing clout with his affair with Pritty Vishy, noting that he has been pursuing her for the past two months because she is the ideal woman for him.
The singer further stated that he will double Pritty Vishy's dowry and pay Ksh4 million instead of Ksh2 million.
Pritty Vishy's dowry request
In a past interview, Pritty Vishy informed her admirers that they should be prepared to part with Ksh2 million in cash as dowry.
"My dowry is Sh2 million na mtu asijaribu kuniletea ng'ombe. Sitaki ng'ombe sijui ati inasukumwa. Mimi ni Ksh2 million and that's it na ukitaka kuleta ng'ombe heri hiyo pesa ununue gari," Pritty Vishy said.