Legendary Kenyan boxer known as Conjestina Achieng's photos have resurfaced online showing how her life has changed for the worst. A Facebook user known as Rogers snapped Conjestina Achieng, posted the picture online and captioned,
"Do u remember her my fellow Kenyans, our leaders must be ashamed they are now moving around with big cars giving out false promises to Kenyans while some of our heroes who made this country proud by putting our flag high in different countries, Conjestina Achieng is now a street girl who lives by begging with all the talent she heard?"
Is Conjestina Forgotten?
Conjestina Achieng was famous in 2000s, where she fought for many international awards. It is sad that the former boxer is languishing in poverty to the extent of being a street person.
Reports state that Conjestina Achieng lives a sad lifestyle, and currently, she is a vagabond in the region of Yala. Reactions from Kenyans say it all. Kenyans have expressed their disappointment with the government for neglecting the former Kenyan legend who brought a lot of glory to the nation.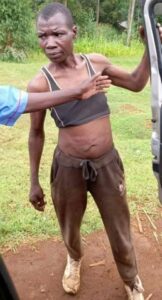 A section of fans showcased their anger, urging the Ministry of sports to come through and assist the former boxer in recovering her life. Some stated that the government should employ ways in which heroes will be celebrated and awarded for their efforts. What is your memory of the former Kenyan boxer?
A Kenyan online user known as Maureen Osemba stated that she encountered Conjestina in Yala and she couldn't imagine how her life had turned out to be, adding that Achieng's condition made her cry.
In August of 2021, the former boxer was reported to have burnt down her home in Gem. Depression was said to be the root cause. What are your thoughts on this story? Also read. Find more articles here.