Popular Kenyan YouTuber Diana Marua and her sisters have revealed that they had a sour upbringing. Diana Marua in a recent YouTube video stated that her dad used to beat her mercilessly. She argued that her dad used to beat her that much to end his frustration.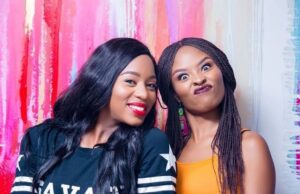 Diana Marua revealed that when his dad and mum divorced, things didn't get easy, but instead, they got worse since her dad was the kind of a person who'd make noise at home. She stated that she and her siblings stayed with her dad with different househelps. She stated,
"Mum and dad separated. It meant we were with dad and different house helps. Dad was a guy of making noise at home, it got to a point we were traumatized. We kept asking ourselves what we did to deserve the beating. We would call our mum to tell her we wanted to live with her, but he told us to wait a little bit longer. She promised to come but never did. Dad used to come home with kelele, and we would know someone will be beaten."
Diana Marua on her family life
Diana Marua stated that at some point, she felt that Michelle didn't get as many beatings as them, something that Michelle boldly declined. However, Diana Marua stated that she couldn't blame her dad for letting his frustration out with them. She added that at some point, her dad could have been stressed because of raising small kids by himself. She added that there were little finances coming in, and this made their life hard. She added,
"I feel like my dad was also going through alot emotionally raising small children by himself. There was a lack of finances, there was so much going on."
What are your views on this story? Also, read this story. Find more articles here.