Flaqo Raz is a Kenyan online comedian whose real names are Erastus Otieno. He is one of the well-known content creators in the nation. A few hours ago, Flaqo held a session with his online fans through Instagram.
Flaqo Raz Instagram Q and A
The session was interactive, and he shared much with his Kenyan fans. Flaqo told Kenyans how he
was affected
healthwise after receiving a bathing soap gift from a fan.
According to Flaqo, the soap he
was given
contained a contagious acid known as Kojik acid that ended up burning his face and body
. He had dark spots on his skin.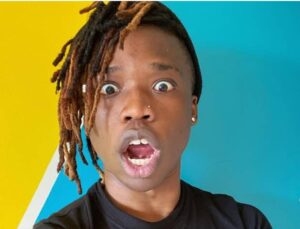 Flaqo gave this information in response to a fan who asked him how he had treated the acnes that he had in 2020. He added that they were not acnes but the side effects of the soap he received from a stranger.
The main aim of the information that Flaqo gave his fans was to teach them not to trust people as
quickly
as he did. He added that the incident was a life lesson to him and requested his fans not to ever fall into the trap as he did.
"…I
was gifted
a soap by someone who said 'I be a fan,' that had kojic acid which burnt my face
badly
ikaniacha na black spots. Beware of people." Flaco wrote.
Flaqo took that question and answer session to address the claims circulating on the internet
just
a few hours ago that he was dating Keranta
.
He refuted the allegations and said that the rumors
are aimed
at clout chasing and seeking publicity stunts
.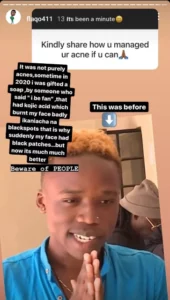 What is your take on this? Leave your opinion in the readers' comments section below.
Follow this platform for more updates on trending and breaking stories in and outside Kenya
.