The illegal activities of "land-hungry" persons who mastered the skill of preying on prime public land in the city and other gazetted areas around the country for their wicked purposes have been put an end by President Uhuru Kenyatta. This comes after Uhuru's message, where he reaffirmed his commitment to ensuring this ends.
The president acknowledged that such cunning and strong individuals had caused grief to Kenyans and communities that ended up being disinherited through dubious ways while addressing at Kenyatta International Convention Center in Nairobi, where he presented many land titles. In his speech, President Kenyatta reiterated that the rolling out of titles marks a new era and a blow to land grabbers.
Kuna wengine ambao kazi yao ni kuzunguka Kenya na kuangalia mashamba ambayo hayana watu, hiyo enzi imepita." The president said.
A title deed, according to Uhuru, is a family document that should be in everyone's best interests. He urged the guys to take excellent care of it and use it to better themselves and their families. He said that the document belonged to them and their family. He asked them to sit and plan together to see how they could utilize it to better their lives.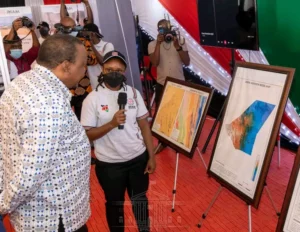 Shida ya title deed ni moja, mzee akiipata anaona ni mali yake nakusahau ako na jamii. Wakiongea hapo anasema anaenda kukopa na pesa ikiingia, akipitia mtaani anakutwa na kengine hapo, anasahau aliyeacha nyumbani," said President Uhuru.
Uhuru hands title deed to Akurinu community
The president's remarks come only a few days after he gave the Akorino community a title for a church plot of land in the city that had been on the radar of ruthless land speculators. The public park was almost bought by influential people in questionable ways, as the president had earlier noted during the presentation of Uhuru Gardens. Still, his government could not stand by and watch the injustice being committed in the open.