Just hours after President Uhuru Kenyatta snubbed him during the Madaraka Day celebrations in Nairobi, Deputy President William Ruto has finally spoken out. Ruto delivered a message to Kenyans while speaking in Kiambu, arguing that we are all accountable for future generations and that it is necessary to offer a message of unity and peace whenever the opportunity arises.
Ruto's letter was understood as a coded response to the failure of the head of state to deliver. Today, while presiding over a public holiday, he had his chance at Uhuru Gardens. Several others have reacted differently, with some alleging that the second in command has a history of challenging his boss at any opportunity.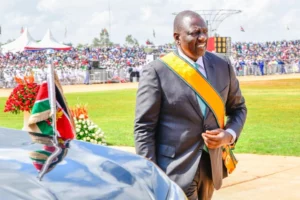 Others, on the other hand, have sympathized with Ruto's criticism of Uhuru for failing to greet the audience for even a fraction of a second.
The political feud between Uhuru and Ruto appears to be intensifying by the day, despite demands from various leaders for them to reunite for the sake of peace. Let's wait and see how things play out in the weeks leading up to the August general election.l lol
Source Link: https://twitter.com/WilliamsRuto/status/1531979334524751873?s=19
Madaraka Day serves as a reminder that we, the people, are the sole authors of Kenya's story; let us write new chapters of wealth and abundance for all Kenyans, especially the poor.
When high-level guests are invited to speak, the Deputy President is normally the de facto Master of Ceremony, and in the event of an invited head of state, the Deputy President is the de facto Master of Ceremony.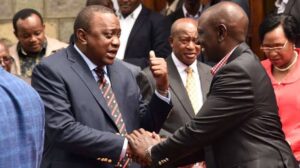 This time, however, the President welcomed Mr Bio, and after his brief statement, Mr Kenyatta plunged right into his speech, shutting out everybody else.
Unlike earlier national festivals, William Ruto and other dignitaries were not given the opportunity to speak at today's Madaraka Day ceremony. Ruto was also denied the opportunity to invite the president to deliver his State of the Union address.