President Uhuru Kenyatta's pretty daughter, Ngina Kenyatta, is off the market after binding with her soulmate on Saturday through a traditional wedding.
The traditional wedding was only attended by close family relatives and invited friends as the glamorous ceremony was kept private with no photos or video leaking to the public.
Through his Facebook page, DP Ruto's online strategist Dennis Itumbi revealed the traditional wedding without mentioning the lucky man who won the heart of president Uhuru Kenyatta's witty daughter, Ngina Kenyatta.
"Ngina Kenyatta, Congratulations on your Traditional Wedding. May God fill your journey with blessings, solidify your union with renewed love, and, importantly, grant you a great family. HNIB agents wish you well," Itumbi wrote on Facebook.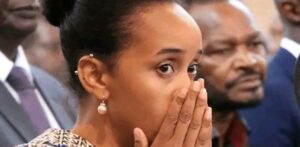 However, sources well-placed and aware of the private marriage have leaked that Alex Mwai Junior, the son of famous sports consultant and hotel director Sam Mwai, who also works overseas at Karen Country Club, is the young man who has got his rib from the first family.
Alex is an Investment Director at Hesabu and previously worked with Ken Gen company. He holds a Bachelor's degree from Dedham University in the UK and ABF from IEB school in Madrid.
Alex Mwai Junior is little known to the public and kept a low profile from the media houses, making it difficult to grab his photo from social media outlets. However, sources have shared a picture of him from a past event.
Ngina Kenyatta follows the footprints of her family where even her elder brother, Jomo, held a highly guarded and private wedding with his fiance Fiona Achola Ngobi on 8th April 2018 at Statehouse.
Only the invited white guests attended the wedding because they didn't carry their phone cameras.
Sources privy to the wedding reveal that it was themed red and close family and business associates were in attendance but agreed to keep it private.