Before the Zora series on Citizen TV ended, the search for another interesting show began in earnest. Well, Citizen TV is known for airing interesting TV shows, and therefore, there was no doubt that Zora's replacement would be another interesting piece. Sultana show was the TV series that replaced Zora, and it didn't take long before fans fell with it.
In this article, we will discuss some Sultana cast members and their real names.
Lolani Kalu (Babu)
Lolani Kalu alias Babu came to the media industry when he was 20 years old. He had just completed his high school education. He started out as a journalist at Sauti ya Kenya.  He would later join Nation Media Group in the 2000s.
He was famously known for the NTV segment dubbed Malimwengu na Lolani. Following the economic effects of  Covid-19, Lolani found himself among a pool of employees that were retrenched by the Nation Media Group. He disappeared from the limelight but was later found in a very shocking situation. Lolani was also an actor at Kenya National Theatre. Currently, he plays the role of Babu in Sultana Series on Citizen TV.
Suleiman Fadhili (Major Jabali) 
Suleiman Fadhili is a top Kenyan actor. The latter has been in the acting industry since 1976. He has featured in several films which include, Sumu, Moyo Nuru, Tunaishi Mjini Masaibu, Gizani, Like Father Like son among others.
He was also featured on Citizen TV's Maria as Omari who was Sofia's father. He is a very talented individual, and currently plays the role of Major Jabali in the Sultana series.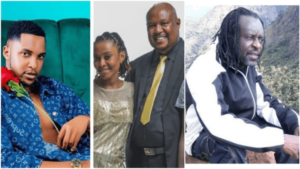 Mwanaasha Johari (Sultana)
Mwanaasha plays the lead role of Sultana. She was born and raised in the Coastal region of Kenya. Mwanaasha is a new face in the film industry. She hasn't featured in any previous TV series.
However, she is very talented, and one could argue that she has been in the acting industry for a very long time. What do you love about Mwanaasha Johari?
Patrick Francis Owino (Duya)
Duya is another talented Kenyan actor. He is that one actor who makes you feel that the series should stay forever. He featured in the program dubbed Kovu.
Annette Oduso (Zuu)
Annette has been in the industry for a while. She has featured in so many movies. They include: Matatizo, Saida, Maza and Fatuma. Annette Oduso is very talented. She plays the role of Zuu in Sultana. She hails from the Coastal region, and this can be read from her language tone.
Winnie Bwire Ndubi
Winnie worked at Maisha Magic East's show dubbed Tehanani before she proceeded to act as Dida in Sultana. Apart from acting, Winnie is also an excellent musician, a director, a music and movie producer, a film scriptwriter, and a perfect baker.
Othman NJaidi
Did you know that Othman Njaidi is the brother of the late famous bongo actor Stephen Kanumba? Now you know. Prior to joining Sultana, Othman Njaidi was featured in the film dubbed Uncle JJ. What do you like about Othman?
He hails from Tanzania. According to other reports, it is also claimed that the late Seth Bosco was his blood brother. Othman plays the role of Jabali Junior on Citizen TV's Sultana Series.
Angie Magio (Fatuma) 
Who is Angie? Fatuma has been in the industry for two decades. Prior to joining Sultana Series, Fatuma played a number of movie roles. Some of them include: Sumu, Selina, Utandu, Kadada, and Maza. She is one of the most sought-after female actresses of our time.
She is talented, and currently, she plays the role of Fatuma in Sultana. Who is your favourite actor on Sultana? Which show is better? Zora or Sultana? Kindly tell us in the comment section. Also read.