Popular Kenyan businesswoman and socialite Huddah Monroe has disclosed that she was married at the age of 19, adding that staying in the marriage for four years before deciding to quit. Huddah disclosed that she quit her marriage because the guy was a drug addict, adding that she never talked about it because she was not a celebrity then.
Kenyans associate Huddah Monroe with so many things, but marriage is not one of the things she is associated with. Well, there is no one single time that the actress talked of being married, but for clarity, she decided to disclose her secret.
If you had that perception about Huddah Monroe, then you need to change it, because the socialite has revealed that she was actually married for four years. Taking to her Instagram stories on Thursday, the Huddah Cosmetics boss left fans shocked after she revealed that she fell in love with a guy and got married 19 then resolved to leave the marriage when she was 23.
Well, Huddah also stated that she left her then-husband before they had a baby. She stated that she spoke about it so that people can understand who she is and where she is coming from.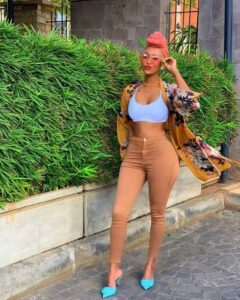 She wrote,
"I was married for 4 years at 19, we didn't have a child and I divorced. Coz the man was a drug addict! I wasn't famous so I didn't need to advertise it. So I speak from experience. Not mocking y'all. That's my biggest secret."
This comes a few days after drama escalated on social media citing that she was in a relationship with a Tanzanian singer after the duo shared pictures and videos of them kissing, a move that insinuated dating rumours. However, Huddah Monroe came out and revealed that she and Juma Jux were just close friends and nothing more. Read more stories here.