Miss Chanty's alleged boyfriend known as Nicola has debunked accusations branded against him by the socialite's first boyfriend Eric Omondi. In a series of Instagram stories, Nicola denied abusing Miss Chantal, adding that he would never lay hands on a woman. He went ahead to describe himself as a man who was raised well, adding that he didn't beat Chantal Grazioli.
He stated,
"I have been framed for something I would never do. Unspeakable. It is a sad day. I would never lay my hands on a lady. I'm a father of two daughters. The truth shall come out. Everyone who knows me knows I am incapable of such a thing. My mum taught me well."
Nicola's response came after Eric Omondi took to social media and shared a video of Miss Chanty seriously abused and bruised. Eric Omondi bashed Chantal Grazioli's current boyfriend, accusing him of being weak.
Eric Omondi stated,
"A man's strength is fully shown when he PROTECTS a woman and not when he puts his hands on her. This is UNACCEPTABLE and he will face the Full WRATH of the LAW!!! He will serve as an example to all those UNCOUTH, UNCIVILIZED and PRIMITIVE men who physically assault women to feel they are STRONG." 
Kenyans bash Chanty's boyfriend
Kenyans on Instagram have taken to the comment section to bash Nicola for playing too low to beat a woman. Well, in the video, the house door was broken, and Chantal was limping as Eric Omondi helped her to walk down the staircase. Eric Omondi and Miss Chanty broke up years ago.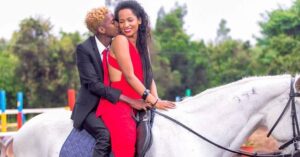 In a series of interviews, Eric Omondi disclosed that he let Chantal go to pursue her career. Could the duo get back together? What are your views on this story ladies and gentlemen? Share your insights down below. Also read. Find more trending news here.