Popular Kenyan Tiktoker dubbed Moya David has broken record to become one of the most followed and celebrated Kenyan on Tiktok. The record was previously held by Azziad Nasenya, and currently Moya David is currently the new King of Tiktok in Kenya. Narrating this huge achievement, the controversial Kenyan Tiktoker went ahead and stated that Tiktok has been a blessing to him, adding that he has been able to see more gigs coming through. Without any doubt, when your work ethic is on top, it is quite evident that better things will happen.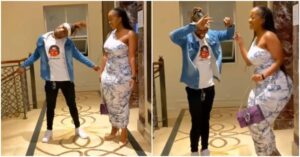 You will meet Moya David always smiling, and if you are a lady who's active on social media, you must have watched his videos. He has surpassed all content creators in Kenya to become one of the most sought-after content creators on Tiktok. Currently, Moya David has more than 2.8 million on Tiktok. He is known for a unique video dance of Jovial's song known as "Mi Amor."
There is always a smile on people's faces whenever they are gifted by the content creator. He has been able to surprise women and men on the streets, and without any doubt, everyone in Kenya is familiar with him.
He has previously received so much credit from the song owners, Jovial and Marioo from Tanzania. However, not everyone has be happy with him, and on many occasions, people have argued that he has overused the song. After the huge achievement, Moya David went ahead and thanked his fans for getting him that far. He wrote,
"I am incredibly proud to reach this amazing milestone. I know I couldn't have made it without you, and that's why I won't rest on my oars; I will keep serving you premium content, just the way you like it Thank you for your amazing support. I became an influencer here because of your constant engagement with my posts."
Share your insights with us down below. Refer to this source.