Popular Kenyan socialite dubbed Pritty Vishy, who is the alleged ex girlfriend of Stivo Simple Boy has reacted after a man went on the streets to ask for her hand in marriage. Taking to social media, Pritty Vishy declined the offer, adding that she wanted a man who has money, and for a fact, a man with a car. She added that there were no chances she could accept the man's offer. The man, known as Edward Karanja resurfaced on social media a couple of days ago with a poster requesting Pritty to marry him.
The poster read, "To PRITTY VISHY. I a tired of waiting for you Pritty Vishy. <span;>I love you so much babe, come and take my heart. Eddy loves you."
The rejection from Pritty can never be a surprise to her key followers, considering the fact that she had consistently stated that she wanted a man who had the ability to pay a dowry amounting to two million shillings. She stated that she wasn't ready to receive cows as a bride price, adding that suitors should consider using the money to gift her a cow instead.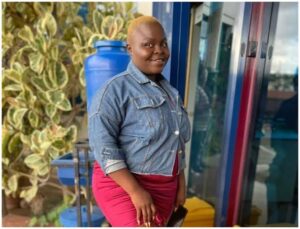 She went ahead to justify why she chose two million dowry tag. She added that she brings a lot to a man's table, hence the reason for that huge bride price. Do you think that two-million dowry fits the socialite? Is it too much for a bride price tag?
She wrote, As long as you know your worth, you set your standards, imagine sio pesa mingi… qualities zangu ni mzito mzito, hata mimi mwenyewe ni mzito. Najua kupika, najua kukanda…. vitu mingi nikianza kutaja hapa sitamaliza."
What do you think about this story? Kindly share your insights with us down below. You can refer more about this story here. Refer to this source.