Politics appears to be taking a wrong turn as fresh details emerge on daily basis. As this happens, the current  Tharaka Nithi senator, Professor Kithure Kindiki has let cat out of the bag exposing a set of people who the deep state is planning to use as machinery to ensure Kenyans vote for the opposition chief unwillingly. He said that there is a planned move by the deep state to do everything possible to ensure Raila emerges the winner in 2022.
Kithure Kindiki said this while speaking in Wundanyi during today's trip where he had accompanied Deputy President William Ruto to his campaigns in the region.
"I want to say that those people have no agenda. What they know is chest-thumping on how they will force you to vote for them against your will. They have said they will use the chiefs, police and assistant chiefs to force you to vote for their project, will you agree?" Said Professor Kithure Kindiki.
Deputy President William Ruto and the former prime minister Raila Odinga are at the forefront of the race shaping the forthcoming polls. This is a poll that is said to be a two-horse race despite the existence of another duo who are interested in the Country's top office.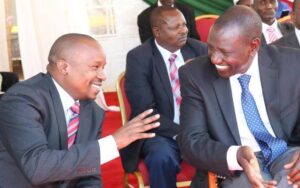 As this happens, the second in command camp has continued throwing jabs at the 'Deep State' for allegedly scheming a plan to intimidate Kenyans into voting for the former prime minister Raila Odinga.
Things have continued getting serious the more we near the August elections. The ground is gradually getting tough with various politicians doing everything possible to ensure the people they are supporting win in the August elections. Raila has continued doing everything possible to save himself with so many people behind him pushing him to ensure he doesn't lose in the coming elections.