Former radio presenter and currently a politician known as Jalango has raised alarm over claims that two of his gardeners ran away with his money. According to Jalango's social media posts, the two named Eli and Litiema stole the money from the car they were cleaning. The two were to clean the car as their usual role was assigned to them by their boss who really trusted them.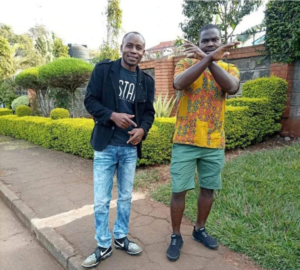 Today they decided to prove their brilliance by stealing the money and finding a way out of the compound when the boss was not aware of what had happened. Jalango has not specified the exact amount of money which the two stole in the process. However, from his posts, it is clear enough that they must have stolen a huge bounty of money because Jalas has offered 100k on each of them.
Jalas has said that the two have run away with their families. Efforts to reach them on phone have ended in vain and he is now calling for public help to help him trace them easily. They have turned off their phones and it appears they can't be traced by the intelligence units responsible when it comes to finding such victims.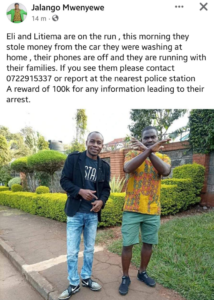 Jalas has dropped his contact on social media platforms so that anyone who finds them can report them immediately to him or the nearest police station. This tells it all that you should never trust anyone in life because if they get a clear chance they can cheaply finish you.
Jalas has been flossing on his social media platforms serves times with these two workers who they have been eating together roasted meat. Sometimes he would give them free alcohol to enjoy whenever he felt like surprising them. It's indeed a big loss to him as more details are set to come up.