Fans have been excited with Diamond's latest posts on social media after he shared photos and videos of him spending quality time with his son Naseeb. At the time when Diamond Platinumz landed in Nairobi, his baby mama Tanasha Donna was away on a tour.
Without any doubt, Diamond's son is completely his lookalike. Fans were amazed by Naseeb's intelligence after he went ahead to name all the names of the animals the singer showed him. Fans thanked him for putting his kids before everything else and congratulated him for being a present father.
It shall be recalled that Diamond Platinumz landed in Nairobi on Wednesday night, where he was meant to attend a private event for his betting company dubbed Wasafibet. Coincidentally, Diamond's arrival in Kenya on the same day as his Ugandan socialite Zari Hassan. Many speculated that they'd planned to meet, but this proved not to be the case.
However, some sources going round gave speculated that Diamond Platinumz and Zari Hassan had come to Nairobi Kenya to shoot an episode for their series, Young, Famous and African Netflix reality show. Both Zari and Diamond were cast members of the reality shows season one.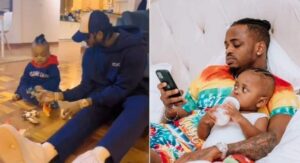 Discussing why she had come to Kenya, Zari Hassan stated that she had come to Nairobi for business, adding that she had come to reveal a new mansion that had been designed by Fine Urban Construction and Interiors limited. Zari stated,
"I'm here to reveal a mansion that has been designed by Fine Urban Construction and Interiors and it's one of those out of this world houses that you would not expect in East Africa. So I'm here to reveal their work."
Well, what do you think about this story? Kindly share your relevant insights and opinions down below. Also, remember to follow Mambo Mseto for more trending news.