Today is a particularly special day for DP Ruto, who is meeting ladies at Nyayo Stadium for a big event where he will speak to them about the country's future. This is one of DP Ruto's strategic initiatives in the run-up to the August elections, in which he hopes to get more votes. Thousands of women attended the event to listen to the Deputy President speak.
DP Ruto was accompanied by his wife Racheal, Rigathi Gachagua's wife, and a number of other leaders. As DP Ruto introduced the many people present, the atmosphere was tense. DP Ruto introduced Gachagua, his wife, and Rachel Ruto, who was one of the distinguished guests in attendance.
When DP Ruto introduced Racheal Ruto, Gachagua's wife, the atmosphere transformed, and everyone erupted in applause and excitement. It was a powerful moment that lasted several minutes until the audience fell silent again. By the end of the day, a lot is expected from this encounter.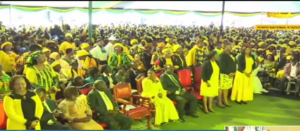 The Nyayo Stadium event is one of the most unusual rallies that DP Ruto has ever staged in his bid to win a State House seat. DP Ruto's encounter with a group of women today demonstrates that, despite the fact that the ground is still fragile, Kenyans have made up their minds.
When DP Ruto addressed the crowd, they took a long time cheering, causing him to stop and allow them an opportunity to finish. As DP Ruto continued to deliver his address and introduce other people present, there was a lot of restlessness, marked by applause and excitement.
The hall was nearly full, with women from all across the country strewn about. It was a rally that brought together ladies of many ethnic backgrounds to watch the person who will succeed Uhuru after the August elections. DP Ruto has continued enjoying more numbers despite the fact that tables have started turning.