Machachari actor Tyler Mbaya, broadly known as Baha of Machachari, has left his social media family in awe. This is after he penned a heartwarming message to his baby mama Georgina Njenga.
The actor shared a cute photograph of his baby mama. The photo was from their romantic date at a city hotel. Take a quick look at the screengrab of the post below. On the floor, some flowers had designed with 'I love you. She was breastfeeding her baby as Baha surprised her. This was so romantic, and it came a few months after Georgina and Njenga welcomed their firstborn baby.
"From the first time I saw you, Mama I knew we'd be really good friends ever since. You've been my closest companion and best friend for life. Cheers to many more years of an amazing friendship. Love you, G," Baha's message read.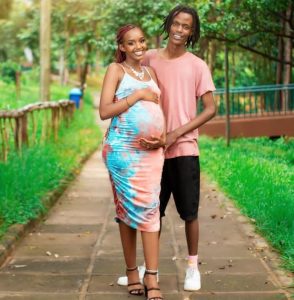 Here are some of the comments left by their fans;
𝑳𝒂𝒎𝒆𝒄𝒌: You used to see adults getting married when you were a kid and that you're an adult, you see kids getting married. You don't know where you stand now
𝑺𝒆𝒕𝒉: Do these two know what love and marriage are? I guess not! They have a lot to learn.! This is not acting baba na Mama in a studio set!
𝑯𝒐𝒑𝒆: Kids doing it perfect alafu Sasa Kuna wewe, don't scroll ni wewe naambia
𝑷𝒉𝒐𝒆𝒃𝒛: When it's your turn, true love will locate you without the struggle! Be happy while it lasts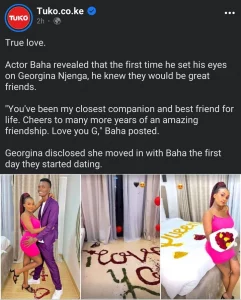 What is your take on this? Feel free to let us know by simply leaving your opinion in the readers' comments section below. Follow this platform for more updates on trending and breaking stories in and outside Kenya and the world.