Popular Kenyan singer and social media influencer dubbed Tanasha Donna has given her fans a snippet of her life in Paris France, as she continues to enjoy helicopter and limo rides. It is very clear that the controversial Kenyan socialite and a mother of one is getting a princess treatment in France. Tanasha has continued to share pictures and videos of her stay in Paris, and this has thirsted a larger part of her fans on Instagram.
Recently, Tanasha Donna also revealed her rapping prowess while in France, and this gained lots of positive reactions from her fans. In the song, Tanasha Donna reveled that she is working so hard to give her son Naseeb the best life he deserves.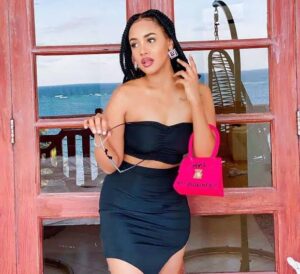 This comes a few days after her baby daddy, Diamond Platinumz settled for a few days in Kenya, where he was spending quality time with his son, Naseeb. However, when Diamond was spending quality time with his son, Tanasha was not in the country. She was still adventuring the world.
It shall be recalled that Diamond Platinumz and Tanasha Donna broke ties months ago, and this came after the Kenyan diva accused the musician for cheating, something she argued it had happened for several times. She called out the singer for failing to keep their promise of being loyal to each other. However, Diamond Platinumz responded by saying that he was young, and that it was difficult for him to control himself from the female energy he gets.
However, currently, the Kenyan diva seems to be doing well with her life, and currently, she is focusing on music. She has continued to grow her brand, and currently, she is one of the most sought-after female musicians in Kenya. What do you think about this story? Share your insights with us down below. Also read this article.