A dramatic incident happened in Kiambu county where UDA gubernatorial candidate Kimani Wamatangi and former Governor William Kabogo exchanged furious words. Rigathi Gachagua, who was heading a series of Kenya Kwanza campaign rallies in Kiambu county when the drama issued.
It all began when Kabogo attempted to interrupt senator Kimani Wamatangi during his speech. Kabogo began challenging Wamatangi's performance as a senator in order to earn the governorship. This enraged Wamatangi, who retaliated by exposing the wrongdoings done while Kabogo was the Governor of Kiambu.
Kabogo who was carrying his microphone began to rile up his fans. Wamatangi's followers began charging him resulting in a tense confrontation between the two camps. The tumultuous atmosphere was on the verge of devolving into violent brawls but Kabogo opted to keep his supporters quiet.
Wamatangi went on to tell Kabogo that he is not one of the leaders who may be intimidated. He then went on to urge Kabogo that he should go ahead and hold his own gathering. Rigathi Gachagua was just there during the dramatic incident as he observed them. The Kenya Kwanza Alliance includes both Wamatangi and William Kabogo.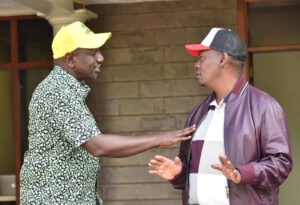 Both Hon William Kabogo and Senator Kimani Wamatangi are Kenyan politicians from the Mt Kenya region which is known for its high voter turnout. Hon William Kabogo served as the first Governor of Kiambu County after being elected in the 2013 general elections. He was defeated by Hon Ferdinand Waititu who was later impeached in the hotly contested 2017 general elections. Senator Kimani Wamatangi on the other hand is a gubernatorial candidate for the United Democratic Alliance party of Kenya in Kiambu County in the upcoming general elections in August.
The two leaders had no qualms about calling each other names in front of their fans, while the hapless Rigathi Gachagua stood by and did nothing. Both leaders are members of the Kenya Kwanza Alliance and are vying for the governorship of Kiambu County.