One of the most influential Kenyan female celebrities is Huddah Monroe. She is a business lady who has figured out how to succeed in the competitive business environment in the nation. 
Huddah, who has never been afraid of posting anything on her social media platforms, has caused a stir. This is after she made a controversial post on her official insta stories.
In the post, Huddah Monroe said that while in Dubai, she avoids talking to black people. This is for various reasons, one being that people from other white countries always crack her up. 
Huddah added that white people like interacting with her and making her feel like one of them. This is why Huddah finds it more accessible to associate with whites than blacks. How do you interpret this? Anyway, she has her good reasons.
Follow the following link to the full post on her official Instagram account.
Take a look at the following screenshot of the post below.
Huddah loves spending much of her time in Dubai. It's the only city that Huddah likes visiting. Before officially coming to Kenya, Huddah had spent two years in Dubai. Huddah even told Kenyans that she would never come to Kenya. 
Again, Huddah said that her boyfriend is white and that she is marketing her products in other nations apart from Kenya.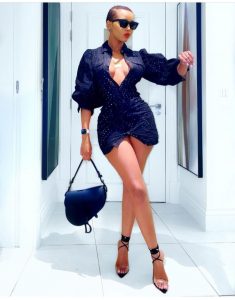 Her boyfriend is a white man who is living abroad. She is also making sales of her products in nations outside Kenya.
What is your take on Huddah's controversial stance? Feel free to let us know by simply leaving your opinion in the readers' comments section below. Follow this platform for more updates on trending and breaking stories in and outside Kenya and the world at large.