An Instagram post on Diana Bahati's feed has raised a lot of eyebrows about Mueni's whereabouts. Diana posted a video taking Morgan, Heaven and Majesty to school with a caption that read,
"There Goes my Pride and Joy😍 Forever in my heart @morgan_bahati💙 @heavenbahati💖 @majestybahati💙"
Diana's fans went ahead to comment on the post saying they want Mueni back together with her siblings like they were before. One of them wrote,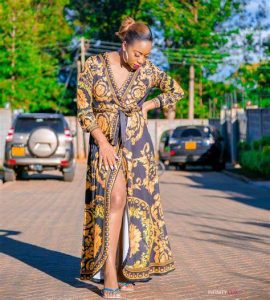 "Imagine if Mueni was there too😭 Whatever it is that happened, I rebuke the spirit of separation in Jesus Name! Let Peace reign and God Bring Back Baby Mueni home to her siblings😍❤" Darmat
Diana replied back insinuating that mama Mueni was not grateful for everything they had done for her and her child.
"Let's not involve Jesus where there is ungratefulness, bitterness and spite. Love and Light❤"
However, it is alleged that the fallout between Diana and Bahati's ex-lover, Yvette Obura would be what led Mueni to stop leaving with the Bahatis.
Last year, towards the end of September, Diana and Yvette unfollowed each other on Instagram. Days after unfollowing each other, Diana Bahati went ahead to pull down a Youtube video she did with mama Mueni showcasing how their co-parenting prowess.