Is there something going on? This is the question many people have been asking themselves after noticing how far Juma Jux and Huddah Monroe have been taking flirting on social media. There is a possibility that the expected might happen if at all the message penned down by Juma Jux to the singer meant something.
We all know that Juma Jux released a song recently, and guess what! The Kenyan diva is the featured video vixen. It shall be recalled that the duo kissed in the music video, and that is not something we can ignore ladies and gentlemen. Is there something more than what meets the eye?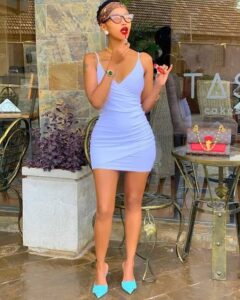 When the music video was released, of course Juma Jux tagged Huddah Monroe, with the Kenyan socialite adding that she yearns to meet him again and again.
Huddah stated, "I am coming this Sartuday unitoe nyege."
It shall be recalled that in May, the controversial Tanzanian artist released a music video on which she featured Huddah Monroe. The official Huddah Monroe page on Instagram made an announcement that she had been featured in Juma Jux's song as the main video vixen.
Well, it was all work, and everyone left it at that. However, is there something more? Could the two be dating and they didn't alert us? It wouldn't be a surprise for the two to be dating, because we are aware that Huddah Monroe likes to date men with class, and on that note, Juma Jux fits perfectly.
The song was listened to in Dar Es Salaam prior to its release, and among the top celebrities who attended the listening party included Zari Hassan. What do you think about this story? Could Huddah and Juma Jux make a perfect couple? Let us know what you think about this story in the comment section. Find more details of this story in this source.