The famous Mombasa Beach controversial Omar Lali has been appointed as the Roots Party coordinator of beach boys association country wide.
In a statement issued by the The Roots Party presidential running mate nominee, Justina Wamae, with his appointment to head the beach boys association, Omar Lali will dub more votes to George Luchiri Wajackoyah's presidential bid and woo the beach boys to embrace the agenda of the Roots Party ahead of August election.
Beach boys plays centre role in spurring the tourism economy especially in offering guidance to lengthy tours of the coastline and marine parks.
Omar Lali's appointment
"I have today appointed Omar Lali as Roots Party Coordinator of Beach Boys Association country wide. Beach boys spur up the tourism economy as they are guides offering lengthy tours of the coastline and the marine parks. Others sell African souvenirs such as khangas, Maasai sandals and beadwork. Some of these traders display their wares along the sandy stretch" parts of the statement reads.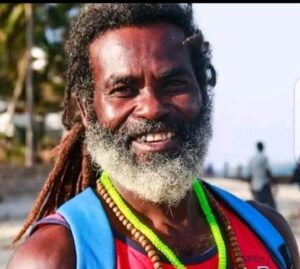 "Omar brings the beach boys vote who are many at times ignored in Kenya's development agenda. Roots Party of Kenya looks forward to this strategic partnership" added the statement.
This comes barely a month after the seasoned content creator Wilson Muraini, popularly known as Jaymo Ule Msee was appointed as the presidential spokesperson and Head of Media in the Roots Party.
"His experience and credentials are an asset to Roots Party as he is aligned to the ideology of the party and Kenya at large, and filly supports the presidential candidate together with the running mate" statement says.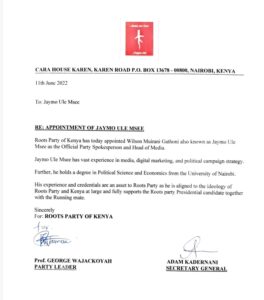 Jaymo Ule Msee accepted the appointment and dedicated to discharge the duties accosted to him in the capacity of the position appointed. He holds a bachelor of Political Science degree from University of Nairobi and vastly experienced with digital marketing.
"I truly thank Prof Wajackoyah, our running mate and our party officials for having faith in me to serve in our party to ensure we get a resounding victory on August 9. It is time for our generation to make the right choices" Jaymo Ule Msee said.