Major drama was issued yesterday when President Uhuru's invited guest unceremoniously left the meeting at the State House of Kenya in Nairobi. It is said that he did this after seeing his country's opponent among the guests who had been invited to the meeting.
The source has revealed that President Uhuru Kenyatta met with the diplomatic guests at the State House on Tuesday before the drama erupted. This has since become a major source of concern and contention with Kenya's immediate neighbor from the North Eastern side horn of Africa.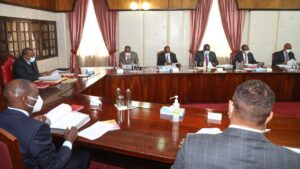 Guests from Somaliland and the Embassy of the Federal Republic of Somalia in the Republic of Kenya were among the diplomatic guests who President Uhuru addressed at the State House, according to reports.
Somalian sources revealed that the Somalia Ambassador to Kenya decided to abruptly exit a diplomatic conference after seeing delegates from Somaliland. This could tell it all about the kind of disunity prevailing in Somalia.
The Somalia Ambassador resigned due to his opposition to the Republic of Somaliland's participation in the event. Having said so, this plainly reflects Somalia's long-standing animosity towards the Republic of Somaliland and its people "In a letter, the Somaliland government stated.
The Federal Republic of Somalia's embassy in Kenya has accused Kenya of undermining Somalia's sovereignty, unity, and territorial integrity in violation of international law.
Kenya has intentionally invited a person from the Somaliland region of Somalia to the briefing of the Diplomatic Corps by H.E. Uhuru Kenyatta and to provide equal privileges as that of a Sovereign State despite the protest made by the Somali Ambassador accredited to Kenya H.E. Amb. Mohamoud Ahmed Nur, who eventually left the briefing, protesting the presence of the representative of the Somaliland region of Somalia," the letter said in part.

‌
More details are set to follow up to bring clarify for what happened.