Tanasha Dona Diamond Platinumz's baby mama is now in the headlines. This is after the exclusive interview with a trusted source went viral. In the video that Tanasha was interviewed, they talked about how marriage destroys professions.
In a previous DW Africa interview, Diamond said he is single and wants to concentrate on his music career. Diamond, a well-known Tanzanian musician and a father of six, added that musicians fail to create quality music because of marriage. This got everyone's attention.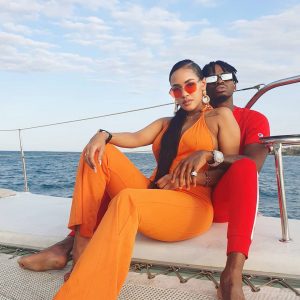 The following is the link to the full video on youtube;
https://youtu.be/srwl3qSxwtg
His fans wanted to know when Dangote, also known as Simba, would be getting married. In response, Diamond said that once he quits his music career, he will get married and settle. This gives us more clues why he had to break up with his ex-wives and baby mamas.
Tanasha Donna refuted the allegations by her ex-hubby and baby daddy, adding that the way society perceives marriage in western culture is way too different from how she sees it. Tanasha said that culture and personal opinions are too distinctive things and the effects of each in marriage are always visible.
Tanasha says a marriage's success is based on both parties' commitments. As per her, marriage is not for the two people in love but God. Tanasha added that two people can get married and live happily ever.
She said that she doesn't think that everything changes when they are married and that as an individual, you can't fulfill your dreams anymore since you have to focus on managing the home and whatnot as it depends on the couple. Connection and feelings for one another are all that matters and nothing more.
Tanasha concluded by thanking Diamond for being in her son's life and accepting to co-parent with her. What is your take on this? Feel free to let us know by simply leaving your opinion in the readers' comments section below. Follow this platform for more updates on trending and breaking stories in and outside Kenya.