The manager of leading betting site Odibets is under fire after it emerged that he has been allegedly having an affair with popular YouTuber Eve Mugai.
According to tweets by a twitter account Pauline Njoroge, Their clandestine affair is said to have had an effect on Eve Mungai's relationship with her lover Director Trevor.
Hints to the relationship came to the fore in 2022 after Aggrey Sayi went public with it claiming that Eve's partner was after him. In his cryptic post, he appeared to ask Trevor to pray for him to be blessed with a woman instead of plotting to harm him.
"I'm dating your girlfriend badala uniombee Mungu nipate wangu unataka kunichapa. Shuwally, what is that? Back to you Hussein in the studio. Mungai Eve the digital creator," Sayi said in a post that he has since deleted.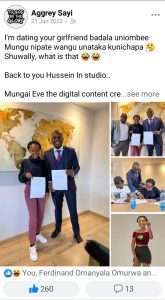 Sayi graduated his relationship with the Youtuber to the point that he handed her a lucrative endorsement deal. After the signing of the deal, Mungai Eve heaped praises on Ajayi for handing her the deal.
"A small girl with a big God. Good morning family hope you all doing well First is to thank each and every one of you for the support you've been showing me, am forever grateful to God for you guys you are an amazing community. Second I am excited to announce to you that we are in partnership with Odibets. Thank you Aggrey Sayi and your team for the opportunity," she posted.
This however is not the first time that Mungai Eve is facing accusations of cheating and breakage of her union with Director Trevor.