The former State House Digital Strategist Dennis Itumbi has alleged that the Director of Criminal Investigations (DCI) is warming to arrest embattled Nairobi senator Johnson Sakaja on Monday, 20th June 2022 over degree forgery claims.
According to the letter shared by Itumbi, DCI officer, Kuria Obadia, the legislator has been requested to appear before the DCI officer on Monday with, Application for enrollment in Bachelor of Science in Management (External) at Team University in Uganda, admission letter, School fees payment records, course work, Names of lecturers, semester by semester transcripts as per each academic year, clearance form from Team University, graduation booklet at Team University congregation held on 21st October 2016 and graduation photos, degree certificate awarded by Team University, travel documents to Uganda during the time of his studies and graduation, exam transcripts, proof of course work being sent and any other document relevant to ascertain and authenticate his awarded degree certificate at Team University.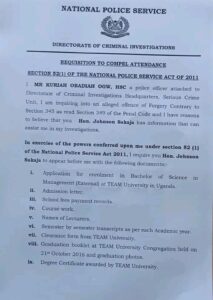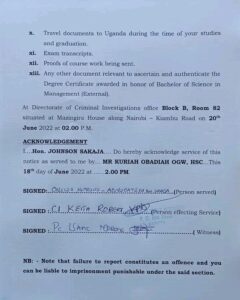 Itumbi reveals plans against Sakaja
Itumbi alleged that the deep state is planning to arrest Sakaja on that particular day (Monday) if he will fail to present the aforementioned items at DCI for investigation.
Sakaja's case worsened after the three petitioners lodged a case with Independent Electoral and Boundaries Commission (IEBC) Disputes Resolution Committee chaired by Willis Otieno, seeking a commission to revoke Sakaja's clearance certificate over university degree forgery.
The commission's tribunal is expected to rule on the case tomorrow, Sunday, 19th June 2022 at 2 pm.
The Commission for University Education chairperson Professor Chacha Nyaigoti Chacha revoked Sakaja's Team University degree recognition pending the investigation of the authenticity of his controversial degree.
Sakaja is also expected to appear before CUE on Monday with the above documents before making the final ruling on the case.
He has maintained that his degree is authentic dismissing the cases filed against him attempting to thwart his ambition of leading the city.