As politics gets new speed, the fight for the state house is turning heated and dirty. Leaders vying for various elective positions are swiping votes from diverse political blocs.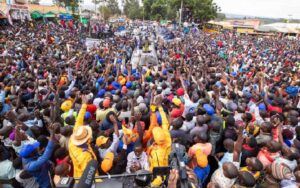 Politics has taken shape, with numerous alignments and re-alignments occurring. Raila Odinga, a member of the Azimio la Umoja One Kenya coalition, and his colleagues championed Narok county today, spreading the Azimio gospel and encouraging grassroots followers to join his political bandwagon.
The Azimio team, lead by Raila, was met with a hero's welcome from hundreds of thousands of supporters. This massive throng has sent shockwaves through Kenya's political arena, indicating that Narok is set to face Baba na Mama.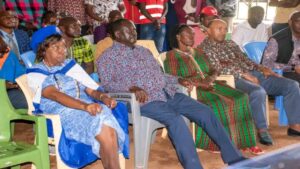 While speaking to citizens of MAA nation, Martha promised that they would provide Kenyans with the best that life has to offer by first reforming the country's deregulated economy. She has urged young people to refrain from being paid to heckle other people's rallies, and to treat individuals with respect rather than insulting them. In a time like this, the iron Lady also admitted that Kenyans should be wary because leaders will use various fancy terminologies to mislead people into their traps.
Kenyans have also expressed their displeasure, claiming that Raila's march to the presidency is inexorable. They say that it is past time for His Excellency William Ruto to get used to Raila as his president, and that he should prepare for the opposition leader. Kenyans are already warning Ruto to be wary of Martha Karua's campaigning techniques, warning that if she succeeds in popularizing Raila, Ruto should brace himself for a dreadful defeat in August.