A famous Kenyan comedian, Muthee Kiengei, and his estranged wife surprised a section of their fans after they were spotted together during an event over the weekend. It was the first time they had been spotted together ever since she walked down the aisle. Muthee Kiengei and his estranged wife, Keziah, were attending Keziah's event in Ruiru. It was a thanksgiving event.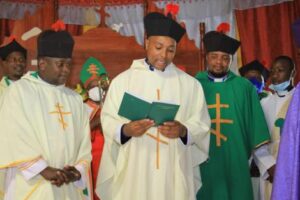 Muthee Kiengei started by hugging his daughter and then hugged his ex-wife. This shocked fans, who went ahead and screamed at them for the huge move. The event was attended by famous Kikuyu musicians and other stakeholders from the region. Kiengei praised Keziah, adding that she is a unique woman adding that she has never shied from serving God no matter the circumstances. He clarified that people should always love each other with the love of God. He stated that he always admired the people who serve God, and for him, he was there to support her at all costs. Kiengei is one of the most sought-after Kikuyu comedians of the current generation. Despite being a comedian, he is also an MC and a media personality. He is also a well-known content creator on different platforms.
Muthee Kiengei went ahead to gift his estranged wife a money gift of about Ksh.100k. The comedian resolved to marry his second wife, Mugure, when he was still married to Keziah. That played a massive role in the divorce. This move provoked Keziah, which forced her to walk out of the relationship?
The ex-couple have already moved on with their lives, and they have proceeded to other relationships. Do you think being friends with your ex-partner is a bad idea? What is your take on this? Some people find it weird, but others find it a good idea. What do you think about this story? Kindly share your insights with down below. Refer here for more details.
Also read latest celebrity buzz.