In front of Azimio presidential candidate Raila Odinga and other Azimio leaders, a bold woman chastised Kilgoris Constituency MP Gideon Konchella on his dismal development records. The woman named as Elizabeth Kagwi complained at an Azimio leaders Engaging meeting held in Kilgoris, Narok County today that their roads are not asphalt yet they have had an MP for a long time. She worried if the tarmac roads were unfit for them.
Mrs. Elizabeth made no apologies for addressing directly to MP Konchella, who was also in attendance. She reported that no medications are available for the sick even at the Trans Mara district hospital.
"Trans Mara hatujawai ona lami. Tunashangaa ni sisi ndio tunaogopa lami ama lami haitutaki. Naongea na Mheshimiwa Konchella, wewe ni munger wa Trans Mara, " she said.
Source Link: https://youtu.be/gFoWvLnX40U
She went on to say that if you go to the district hospital when you're unwell, you won't be able to receive a panadol. Mrs. Elizabeth questioned if the hospitals in the Trans Mara region were receiving any funding. She reported that even expectant mothers are required to purchase cotton wool for use during childbirth at the district hospital.
Mrs Elizabeth claims that when ladies go to deliver, they are told to buy even cotton wool. She inquired about the money set aside for hospitals.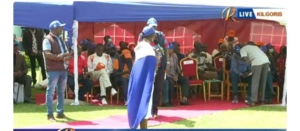 She requested that the Kilgoris MP schedule a visit to the hospital so that local citizens are aware of the situation. She also requested that Raila Odinga, the leader of the ODM, intervene in the case.
Following her statement, however, the MC reminded her that the health sector should have been directed to the area governor rather than the MP.
"She has said the truth but that should have been directed to the governor. MP nowadays has less powers on Health," the MC said.