Esther Akoth who is broadly known as Akothee has celebrated Raila Odinga's wife Ida Odinga in a beautiful post that she made on her official Instagram account.
She described Ida as a loving and cheerful lady who is always full of life. According to Akothee, Ida is among the few ladies who have always supported their husbands in their hardest times.
In the post, Akothee who is a mother of five and a successful business lady praised Ida for being a woman who has always put her family first, supported her hubby Raila and convinced him not to ever give up in life no matter what happens.
"My do or die sweet mommy. Pretty, loving, wise, intelligent and motherly, should meet her at her comfort zone such a loving mother, full of life, humor, and wisdom, Akothee wrote.
Akothee made it clear that she has always wanted to be like Iddah, stand by her husband and support him just like Iddah does to Raila Odinga. Follow this link to see the post on Akothee's instagram account.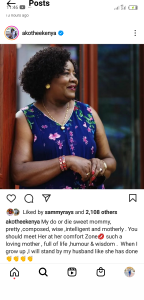 "When I grow up, I will stand by my husband like she has done. Some of us are too impatient that even when challenges cough, we are parking we are leaving, in fact we are going. May all women be as patient, as supportive, loving, encouraging and submissive like you mom. May God keep you safe, protect you and give you good health. I love you".
Akothee and Ida Odinga have been good friends living like mom and daughter for the longest period of time. She gifted Idah during her 71st birthday which was held just a few days ago a bouquet of flowers.
She wrote, " I  made a surprise visit to Min Piny ( mother of the world), Ida Odinga today as we still celebrate her birthday. We celebrate you."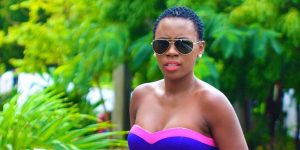 What is your take on this? Feel free to let us know by simply leaving your opinion in the readers' comments section below. Follow this platform for more updates on trending and breaking stories in and outside Kenya.