You must have heard about the toe business happening in Zimbabwe, and how Kenyans have made fun of the story. It all started from a single video that was posted online, claiming that the business was happening in one of Harare's Malls. Well, like always, Kenyans do not let an opportunity slide.
Bringing you this story, Mambo Mseto went into books of research so as to get to the bottom of this story. We have scrutinised all facts and internalised the matter. All we can say is that something is a mess, but the 'ClipToeCurrency' business is not legit.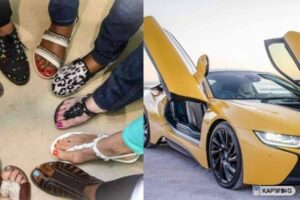 It was alleged that some few people were buying toes in Zimbabwe, that would later be used for ritual purposes in South Africa. The person who appeared on the video stated that he had resolved to sell his small toe and bought a pickup from the incentives he got.
This story sounded interesting to many people. All you had to do is to visit toe dealer who would cut your toe and award you some good money as you walk back home. Just imagine, just a toe, then get paid millions for the same. It sounded interesting for a certain group of people.
The price of a toe was estimated to be about ksh 3.5 million and 4.7 million shillings. Kenyans were excited of this interesting story of immediate wealth just coming out from a single toe.
However, the story has been researched on, and without any doubt, it is has been described as a hoax. Research has been done on the videos of people who stated that they had sold their toes for huge sums of money. However, it is believed that the whole story had been staged. The story was published by a certain blog in Zimbabwe on May 28th, alleging that a toe cutting business was ongoing, and that it was happening at Ximex Mall.
A certain journalist in Zimbabwe stated that story was from a group of young boys who were up for a public stand, adding that there was no truth at all. What do you think about this story? Share your insights with us down below. Refer to this source.