Kenyan TikToker Steve Alvin Muthomi, also known as the King of Mugaka and who goes by the username Aq9ine has now shared a clip of his swollen face as an effect of eating a spider.
He shared the clip on his official TikTok account on Saturday, July 16, appealing to Kenyans to pray for him as he expressed worry about the serious health issues and complications from attempting one of the most daring stunts ever.
In the video, Muthomi looked disturbed as he kept rubbing his face, adding that the swelling had spread to all parts of his body.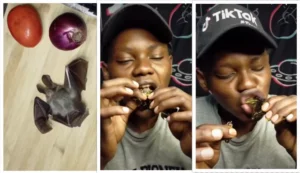 He further asked the public to share any last words they had for him through a post on his Instagram stories, while attaching a picture of his swollen face in the background. Muthomi further criticized fans for expressing worry about his actions, adding that they should not be surprised as it was his life to live.
"You are all boring, you are catching feelings at me because of my problems, why? If I die, I'll be buried and you will forget me…you shouldn't be scared because I'm not one of yours.
"When I recover, next it will be a frog and a snake. I said I'll vomit until I die, I guess I'm almost. Is it Kiswahili that you're not understanding? Mind your business (sic)," he wrote.
His new stunt has since gained over 66,400 views on TikTok. He recently went viral after a stunt whereby he ate a bat, which amassed over 933,200 views on the platform.
Muthomi develops complications after eating bat
A running nose for hours, chest pains, fever, sore throat, flu, and coughing blood are some of the side effects Muthomi experienced shortly after devouring the flying mammal. The flu, he added, almost cost him his voice.
The comedian announced that he did not intend on eating a bat but after it was trapped in his house he got creative and made content for his 221.6k followers.