The ex-Nairobi county boss Mike Sonko Kioko's impeachment case has been slotted to be reviewed on 25th July 2022 ahead of the August 9, contest.
The supreme court has directed the respondents to reply within 7 days.
On Monday, 18th July 2022, the former Nairobi governor moved to the East African Court of Justice seeking to overturn Friday's Supreme Court ruling that upheld his impeachment.
A seven-judge bench constituted by Chief Justice Martha Koome at the apex court, ruled that the former city boss Mike Sonko's impeachment motion was lawfully executed both in the county assembly and the Senate and thus, he (Sonko) stands legally impeached.
"From the record and submissions before the court, we come to the irresistible conclusion that the impeachment of the appellant was in compliance with the constitution and the law. We, therefore, find no merit in the petition of Appeal" ruled the supreme court on Friday.
The supreme court ruling had turned the tables against Sonko and piped his quest of replacing Mombasa governor Ali Hassan Joho.
On Saturday, Sonko slammed Martha Koome for citing that she had earlier expressed opposition on Sonko's bid of participating in the August election.
"She was at fault because contrary to the law, the fact that she is a Supreme Court judge, she was not supposed to be in my case ruling because she already had an opinion that I am not supposed to be a governor and in the IEBC list." said Sonko.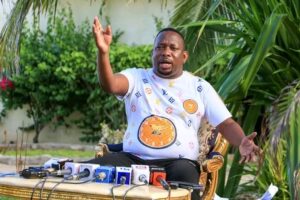 Sonko wants Martha Koome to step down for Chief Justice position for not executing duties as stipulated by the Kenyan constitution.
"Martha Koome is not above the law, I am not against her, I respect her but she should not be the Chief Justice of the Supreme Court. I want her to step down in a respectable manner, I am not saying this because I was disadvantaged by the ruling but I have my own reasons," he stated.
He called Martha Koome over her impartiality in holding an apex position in the supreme court.
"She has defied the directive that one shouldn't comment on an ongoing case…ajichukulie hatua na ajifunge miezi sita for defying her own order." Sonko added.