The Kibe and Samidoh drama appears to have taken a new direction since yesterday after a woman by the name of Sue Gacambi came out to address Kibe.
The drama started when Andrew Kibe came out to address Samido after he declined his offer. Kibe revealed that he had offered to host Samidoh in his place during his tour which he declined.
In his defense, Samidoh said that Kibe does not have his place and that he lives with a 'Mumama'.
"So I was to live work because coz a lad invited me over to his cougar's house or for a helicopter ride, I thought tuliagree nitakam ukipata kwako bro si kwa nyumba ya mama." Samidoh exposed.
The lady Sue Gacambi from a video posted by Mpasho, exposed Kibe saying that he lives in the Ghetto sides of Houston. She bashed Kibe saying he is broke and that he should keep her out of her content.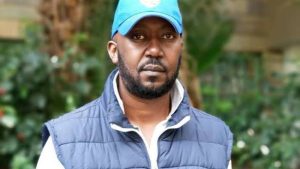 "Umekuja America another day na unafikiria unajua kila mahali, usifanye nitoboe siri zako apa, jipanguse vumbi ya Kenya kwanza ." Said Sue Gacambi.
Kibe Tells Samidoh To Stop Being A Weak Puny (Video)
Controversial vlogger Andrew Kibe has finally reacted to the unending drama between Mugithi superstar Samidoh Muchoki and his baby mamas.
Talking on his Youtube channel Kibe said that Samidoh is d*ck driven and that might end up being his downfall in the long run.
He went on to narrate how he invited Samidoh on his show while he was visiting the United States but Samidoh declined and opted to hang out with ladies.
Kibe said he felt sorry for the singer seeing how talented he is but has his energy focused on the women.
Just in case you are not familiar with what has been going on, there has been an online feud between Samidoh's baby mama Karen and a lady by the name of Bernice who is said to have sponsored Samidoh's trip to the States.
Rumor had it that Bernice was Samidoh's mistress something that did not sit well with Karen who went to the States to follow him up.
So earlier, Karen responding to fans who had been alerting her that Samidoh is hanging out with another woman in the States had this to say;
"The 'tea' is very okay. USA people come out in huge numbers to see Bernice who has big assets and also enjoy the Mugiithi. Also, take photos and send them to me."
It is not known whether Bernice is a groupie or simply a muse for Samidoh, but American fans have reported that she is always around at every one of his US concerts.
An online Kikuyu gossip page seems to be the one to break the dating rumors and they dish that it is Bernice who sponsored and arranged for Samidoh's current US tour. Samidoh and Bernice have even had several pictures taken together.
Bernice appeared to be responding to Karen's comments on her page by posting that she would rather sit back and watch rather than engage in meaningless fights.
"I sit back and watch them insult, that's how I was raised I am not a coward but am wise." Samidoh is currently in the United States of America on a tour set to end in December. Whether by coincidence or design, his baby mama Karen Nyamu also traveled to America for a different reason.