President William Ruto will make his second International visit since he assumed power next week when he visits Uganda at the Manufacturer's event in Kampala.
Ruto is expected to meet with his long time friend and President of Uganda Yoweri Museveni.
This comes amid growing tensions among the two neighboring nations brought about by Museveni's Son, Muhoozi Kainegaraba.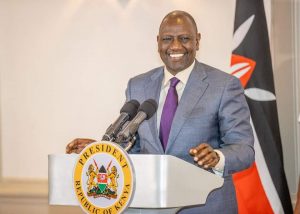 The outspoken Ugandan army general sent out a series of tweets on Monday and Tuesday claiming that he would be looking to capture the Kenyan Capital city Nairobi and it would take him less that two weeks to achieve this goal.
It is not yet clear whether the threats made by Museveni's son have done anything to damage the long term friendship President Ruto enjoys with his Ugandan counterpart.
Ruto and Museveni met six times before he became president and Museveni was one of the few guests who were allowed to speak to the masses during his inauguration at the Kasarani Stadium last month.
During the much anticipated event, lots of attention will be made to President Museveni's speech as he is expected to speak on the history of the Ugandan army and the role it has played to the nation