There is no way President William Ruto will manage to rule in peace with Azimio La Umoja leader Raila Odinga on the rival side, Ruto has been cautioned.
The two leaders have been engaged in verbal fights, with Raila accusing Ruto of rigging him out. Ruto, on the other hand, accuses him of promoting anarchy.
Vihiga Senator Godfrey Osotsi says that Ruto must find a way of bringing Raila on board if he wants to rule in peace and realize the Kenya Kwanza goals.
He says the government cannot achieve its ambitious plan to stabilise the economy until it addresses the ongoing political tiff with the opposition.
The parliamentarian argues that Raila enjoys the support of close to half of Kenyans, making it unrealistic for Ruto to think he can leave him out.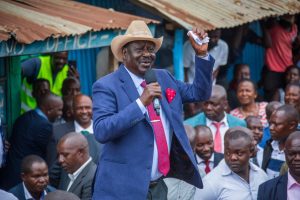 "Some people take this issue very lightly but Azimio controls half of this country in terms of support and when we have such a huge section of the country against the sitting regime it will always affect the economic performance," he said on Citizen TV's Daybreak Show on Monday morning.
Osotsi, an ally of Raila and a member of Azimio, says that judging by how Ruto is handling the situation at the moment, he is yet to realize it's seriousness.
He has also said that it is now clear that Ruto and his administration are struggling to perform, even as he claims that things are running on well.
The Senator argues that for Ruto to have to sign performance contacts with his ministers, it is an indication that things are not working out and he is now having to give them targets.
"The situation is not as rosy as Kenya Kwanza would want us to believe. There is a lot they need to do and that is why one year after they came into office they decided to sign performance contracts clearly indicating that there is a performance problem within the regime," he added.