President William Ruto is now using his predecessor Uhuru Kenyatta to completely disable percieved opposition leader ODM leader Raila Odinga, Governance Expert Javas Bigambo says.
Bigambo argues that it is for this reason that Ruto has offered Uhuru the job of leading peace efforts in the region, and is of the opinion that his main target is the former Prime Minister and not Uhuru.
For him, Ruto is aware that Raila will cause him problems in the coming days, and this will worsen if he (Raila) has the backing of Uhuru, who backed his unsuccessful presidential bid of August.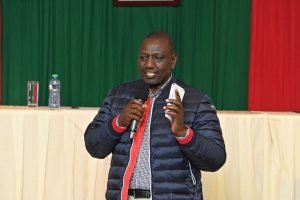 He notes that Ruto has, therefore, offered Uhuru the job to have him isolate Raila, well aware that Uhuru cannot take his appointment and at the same time be in the opposition.
"It is a cryptic move aimed at reducing Uhuru's potential onslaught on the Ruto government. So far, Mr Odinga has not yet taken the front seat in organising the opposition or giving direction to his team. So giving Uhuru a job and leaving Raila out is also a strategy of isolation," he told the Daily Nation.
But Raila's allies believe that Ruto's strategy will fail, and are of the opinion that Uhuru can still be in the opposition while playing his new role, as Raila and Wiper leader Kalonzo Musyoka have been doing.
"Special envoy status does not prevent one from political participation. We have seen that with Wiper leader Kalonzo Musyoka and even Baba," Vihiga senator Godfrey Osotsi told the paper.
Ruto has also been seen trying to directly reach out to Raila, and recently promised him an appointment if he agrees to retire from active politics.