The political battlefield is now getting more tough as things appear to be changing for the worst on DP Ruto's side. This comes after the changing opinion polls started trending where Raila is now beating DP Ruto clean. It has become a real scare everyone is talking about it. According to recent opinion polls, it has been revealed that Raila beat DP Ruto with more than 400,000 votes.
It has been revealed that Raila is already beating him though he hasn't made it to the 50% mark which is expected to be the minimum count in order for one to make it to State House. Raila beat DP Ruto with a total of over 7.9 million votes while DP Ruto is standing at a total of 7.4 million votes. The competition is gradually changing for the worst as it benefits someone else in the same competition.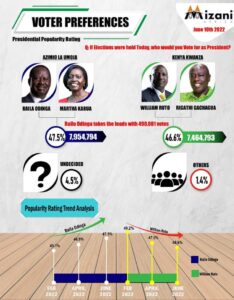 However, it has also been revealed that there are several other people who are yet to decide their stand and they definitely form the remaining percentage. The number of undecided citizens is still high and these are targets of the current campaigns to see who is going to win and top up the remaining 3 to 4 percentage vote count.
However, according to party popularity, it has been revealed that Kenya Kwanza remains very popular than Azimio la Umoja which is competing with Kenya Kwanza at a very tough rate. DP Ruto and Gachagua might be forced to change their political approach and grind the ground harder to bring out the votes because it seems the tables are turning against them.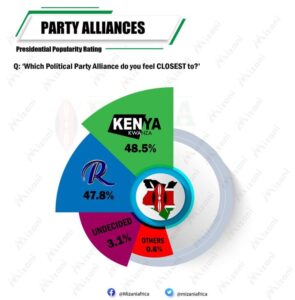 Meanwhile, Raila will continue enjoying the massive support according to statistics released by various houses according to the analysis of matters on the ground. Some have been claiming that Raila might have probably paid for this.