The Kenya Kwanza squad, which conducted campaigns in Busia County, had a terrific day today. Mudavadi, Wetangula, and several other aspiring grassroots leaders led them. Mudavadi and Wetangula are rushing to give the 70% Western votes that DP Ruto needs to beat Raila in August.
After what happened today, this appears to be a dream that is gradually becoming a reality. Mudavadi asked the people of Busia who they would vote for during his speech. The people shouted DP Ruto's name back in unison. It was a powerful moment when they reacted to him in the way he wanted them to.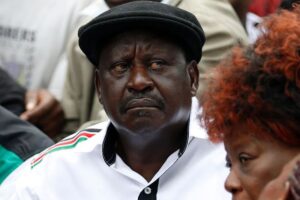 However, the ground is weak because, despite being disappointed countless times, Busia has always remained Raila's political bedroom. Mudavadi kept his address brief and in the form of questions in order to obtain information from the public and assess the actual situation on the ground.
Mudavadi was brought to Busia county by numerous Western region leaders to test the waters. The day went well because the people listened to them. However, as the protest came to a close, there were some minor annoyances due to the crowd's loudness.
When Ababu Namwamba seized the microphone, he was compelled to plead with the crowd to keep order before the rally could be completed. He informed them that the rally was coming to a close and requested that they remain silent. He noticed a certain young man in a vest and persuaded her that the rally will be over in a few minutes if she kept quiet for a few minutes.
People admired Ababu Namwamba, and it was at this point that he began warning them about the dangers of cooperating with Raila Odinga. If they vote for Ruto, he claims Luhya will restore their respect. Meanwhile, there are equal chances of things changing with time.