Fans of the popular Kenyan Band known as Sauti Sol have expressed their frustration after the cancellation of the much anticipated Europe tour. Reactions from fans came after the crew announced that they were not going to travel to Europe on dates they listed before.
The Band received a huge blow as a result of the ongoing Ukrainian war. Due to the war, the men-band had to postpone the much-anticipated concert. The band crew was expected to conduct a Europe tour, but this has not happened due to the effects of the war that is currently ongoing in Ukraine.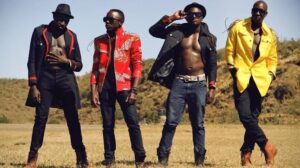 Sauti Sol announced that their Visa application has been affected, and this has forced them to cancel the tour. However, this will be for a short time, as the team works to resolve the Visa issues.
Sauti Sol issue press release
Sauti Sol issued a press conference, where they stated,
"It is with the utmost regret that we have to once again postpone our shows in Europe. Despite applying in time, we are informed by the UK embassy that delays occasioned by the Ukraine Crisis has made It increasingly difficult to procure the necessary travel visas in a timely manner. It is with heavy hearts that we disappoint our fans end only hope to make it up to everyone that looked forward to joining us."
The Band stated that the tour couldn't happen on the recent dates, but once the Visa issue is resolved, the team would ensure that they come up with other dates. Some fans who had bought tickets went ahead to demand a refund, citing that it was a very unethical move by the team. However, Sauti Sol assured fans that new dates will be released soon. Sauti Sol stated,
"We are working with the UK venues and promoters to have the rescheduled dates announced next week when we have word of when the UK visas will be granted. All tickets will remain valid."
What's your view on this story? Also read. Read other articles here.