The Kenyan Chief Justice Martha Koome has pushed for the impeachment of President Uhuru Kenyatta for failing to appoint six judges among the forty who were nominated by the Judicial Service Commission.
Martha Koome raised alarm and refuted the High Court's ruling, adding that the president's refusal to appoint the 6 judges among the 40 was a violation of the constitution, and that called for direct impeachment. In the recent past, the High Court of Kenya had ruled the head of the Executive arm of the government should appoint the nominated six judges, and if not, the Chief Justice was expected to appoint them.
Martha Koome has refused to take the role, adding that the president did not adhere to the constitution, adding that he violated Article 3(1) and 166(1)(b). In her statement, Martha Koome stated,
"It is proposed that the court makes a declaration that the President… is in violation of Articles 3(1) and 166(1)(b) of the Constitution. A declaration that the appropriate remedy for the violation of Articles 3(1) and 166(1)(b) of the Constitution is the impeachment of the President or any other order that secures direct accountability of the President."
Do you think that President Uhuru Kenyatta did the right thing for not appointing the 6 judges? Tell us down below. Martha Koome stated that the president has been assigned a role by the constitution to appoint all judges in accordance to the recommendations that have been given to him by the JSC.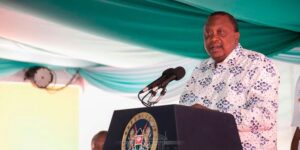 It shall be recalled that the president of Kenya refused to appoint the six judges a few months ago. The president gave his reasons for not wanting to appoint the six judges, adding that the Intelligence report issued to him cited that their names were tainted. What do you think about this story? Kindly share your relevant insights down below. Also, read other trending stories from here.