Months after the August 9 general elections, opposition leaders still believe that President William Ruto did not ascend to power fairly and squarely.
According to Makueni senator Dan Maanzo, there are many tricks that Kenya Kwanza used to defeat Azimio presidential candidate Raila Odinga in the elections..
According to him, Ugandan Citizens were mobilized and crossed over to Kenya to specifically vote for Ruto.
"He knows clearly before he formed government, there were many things that did not add up. He knows a few things which they did in the elections although the courts held that whatever they did not overturn the general thinking of the people.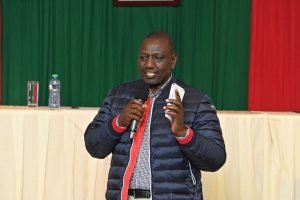 "He is aware there were many other people who trooped into the country and voted for him. At the borders between us and Uganda. He knows there are people who have registered as Kenyan voters and have Kenyan IDs and they have done the same in Uganda… along the border in Busia and all the way to Karamajong. That number went up to close to 200,000," the senator claimed.
Maanzo said that the youths themselves revealed the information to him adding that they have been engaging in the exercise for many years.
He further said that he gathered the information after the general elections presidential petition.
He however blamed Azimio agents for failing them since they could have countered such individuals.
"On Azimio's part, agents of the presidential vote would have picked that out. If you talk to anybody in Bungoma and those border constituencies they would tell you but our agents should have been able to challenge those people and tell them to show them their residence in Kenya," he said.
Raila lost the general elections after garnering 6,942,930 votes (48.85 percent) while Ruto garnered 7,176,141 (50.49 percent)