ICT CS Eliud Owalo is a man under attack after a group of anonymous Sudanese hackers, linked to Russia, jammed government systems for the better part of Thursday July 27th.
Netizens questioned the efficacy of the vocal cabinet secretary following his own admission that several government systems were under attack.
Owalo faced major criticism with many claiming that he is more preoccupied with Luo Nyanza politics and his uending attempt to dethrone ODM Leader Raila Odinga from the community's kingpinship to the extent of absconding his core mandate as the Information, Communication and Technology minister.
The eCitizen platform, a vital hub for accessing over 5,000 government services in Kenya, experienced a cyber attack, as confirmed by the cabinet secretary.
In an interview with Spice FM on Thursday morning, Owalo acknowledged the hacking incident that was reported earlier this week, saying that cyber-attacks are a prevalent threat worldwide.
During the interview, Owalo disclosed that the hackers attempted to jam the system by inundating it with an excessive number of requests, causing a slowdown.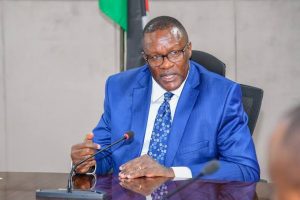 However, he reassured the public that the security measures in place effectively thwarted the attack, preventing any unauthorized access to sensitive data and ensuring no information was lost.Despite the cyber-attack, CS Owalo emphasized the need for continued digitization of services, arguing that a risk-averse approach should not hinder the country's progress in adopting advanced technological solutions.
<span;>Instead, he underscored the importance of constructing a comprehensive risk mitigation framework to ensure sustainable digitalization in the face of potential threats.
<span;>"We cannot halt the digitalization of our records and services merely due to fear of risks. It is essential to build resilience against cyber-attacks while moving forward with technology adoption," he statedTo enhance the nation's cyber defense capabilities, the government has formed a multifaceted team dedicated to proactively monitoring global cyber security trends. This specialized team will draw from international best practices in cyber threat mitigation and develop appropriate measures to safeguard the country's digital infrastructure.
The concerns over the eCitizen cyber-attack arose when Kenyan citizens reported difficulties accessing the platform earlier this week. As of now, some users are still facing challenges accessing eCitizen services, though the authorities are working diligently to rectify the situation.