By Nairobi News
Deputy President William Ruto has realized he is losing the election and is determined to see everyone fall with him. After a cleanup of the IEBC register that saw him bitterly complain of 'lost votes' and a court ruling that allowed the use of Manual register that he was against, Ruto has now embarked on a plan to spew hate and divisive propaganda ahead of the Tuesday poll.
In damning revelations by sources familiar with his machinations, Ruto and his top aides have resorted to high-level character assassination campaigns and polarizing hate messages to potentially cause violence during and after the election.
Cambridge Analytica Season Two?
The elaborate hate plan involves a Kenyan marketer named Peter Kironji of Twiva, a digital marketing company linked to spreading hate propaganda in the past.
Peter has been tasked with ensuring the formulation and spreading of a barrage of inciteful messages against select ethnic groups, public administrators, and several political leaders to set the mood for violent attacks on the said individuals and blame it on 'hustler's anger'.
Mr. Peter Kironji has enlisted over a hundred social media influencers with special training to profile Kenyans in the digital space and using techniques attributed to Cambridge Analytica, charge the emotions and switch Kenyans into a 'violent' mode.
Twiga's campaign will target ethnic groups, high profile leaders affiliated with Raila's Azimio Alliance and at the same time, profile select ethnic communities as violent.
The end-goal of the campaign is to set off spontaneous violence across the country to justify Ruto's refusal to accept the outcomes of an inevitable loss to the Uhuru-backed Azimio coalition.
MPs Kimani Ichungwah, Oscar Sudi and Ndindi Nyoro have been tasked with overseeing the success of this plan.
Local And Foreign Hackers Colluding With IEBC Officials
In another desperate scheme to force victory, William Ruto's henchmen have put up a team of local hackers who will collude with a Nigerian hacking expert and a few IEBC officials to try and subvert the will of the people on the Tuesday vote.
The plan is allegedly being coordinated by former CS Davis Chirchir and has onboarded a Nigerian national Oladimeji Gbadebo Dawodu who also holds British dual citizenship.
Mr. Olamedia arrived on 13/07/2022 at 20: 55 aboard Kenya airways flight KQ 535 from Lagos with the reason for travel being Education. However, he has no proven educational activities or interests in the country.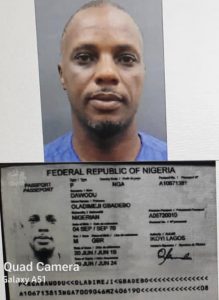 The team has strangely got access to IEBC officials and is in a close working relationship with them. This begs the question, who facilitated the entry of this hacker into the country, who introduced him to local hackers, and who introduced him to IEBC and granted him access?
The games by rogue IEBC officials in collusion with Ruto's agents are probably geared toward tarnishing the electoral process to either secure Ruto a backdoor win or lay the grounds for a possible court petition and nullification.
The evil and illegal machinations by enemies of our democracy in collusion with shadowy IEBC figures must be stopped before they plunge the country into an abyss of chaos and bloodshed.